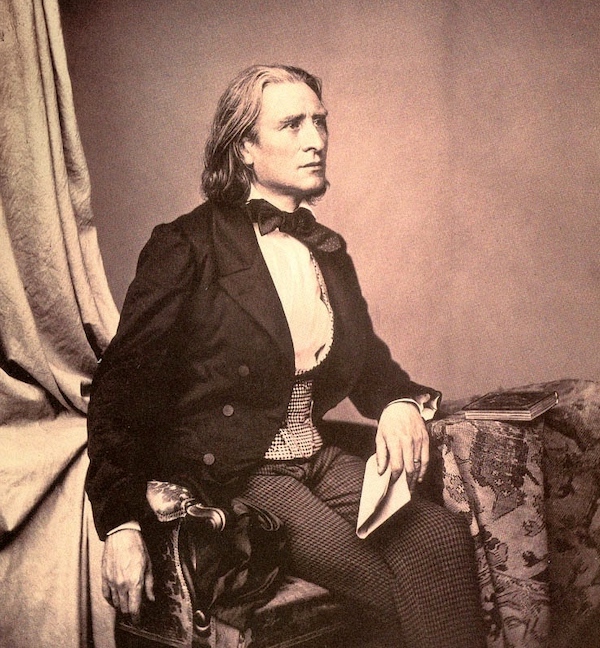 Did you know? The band Phoenix wrote Lisztomania in honor of composer Franz Liszt's stud factor.
But Lisztomania was a real thing! The term "Lisztomania" was first coined by German critic/poet/journalist Heinrich Heine as he discussed the fanaticism and fandom surrounding virtuosic pianist and composer Franz Liszt. He was a bona fide chick magnet. And the phenomenon bore a striking resemblance to how music fans of the 1960s revere(d) The Beatles with swooning and screaming.
Liszt lovers would fight over any physical souvenir possible; from coffee grounds, to cigar butts, and some even tried to steal locks of hair.
Here is how Heine first described Lisztomania:
When formerly I heard of the fainting spells which broke out in Germany and specially in Berlin, when Liszt showed himself there, I shrugged my shoulders pityingly and thought: quiet sabbatarian Germany does not wish to lose the opportunity of getting the little necessary exercise permitted it… In their case, thought I, it is a matter of the spectacle for the spectacle's sake…Thus I explained this Lisztomania, and looked on it as a sign of the politically unfree conditions existing beyond the Rhine.
And that isn't where "Lisztomania" ends, either! In 1975, a film called Lisztomania was released; it is based in part on Marie d'Agoult's Nélida—a novel based her affair with Franz Liszt.
Sadly, the film has a reputation for being a pretty terrible movie. And speaking of The Beatles, Ringo Starr has a cameo as "The Pope" in Lisztomania: The Movie.
But don't let a poorly-reviewed film stop you from enjoying the splendor that is Franz Liszt's music! Here is a beautiful playlist of some of Liszt's greatest hits: